22 Mar

We Bought an Abandoned House

Recently, there has been recent news about free or cheap abandoned houses in Japan. If you're from a country where buying a property is expensive or requires a large deposit, this sounds like an attractive proposition.

There is a glut of abandoned homes in Japan, particularly in rural areas, for a number of reasons:

First, Japanese people tend to prefer new-build houses. Buying a house in Japan is like buying a car. Property prices depreciate and after 30 years the house is worth little, though the land may hold some value. Often, a vacant lot is worth more than land with a house, even if the house is in a liveable state.

Second, younger people are moving away from farming and rural towns to urbanised centres. For example, where we live in Ibaraki, just north of Tokyo, in a rice-growing region of Japan, the rice farmers tend to be elderly.

When the owners of rural properties pass away, children may have already moved away. Inheriting a property that is difficult to sell and low in value, while accruing property tax, may just not be worth the trouble.

Sometimes owners give their properties away, just to no longer pay the property tax.
So, if you're willing to buy a second hand house, you can pick up a bargain, right?
In western countries it's quite typical to buy an old house and do it up. Particularly in countries where property prices tend to rise. In Japan, it's not so commonplace. Furthermore, even if well-renovated, once you live in the house its value will depreciate.
Renovation is expensive in Japan – there is not a large DIY sector or culture. Older houses in Japan won't have the latest earthquake standards and termites are very common. If you go through a renovation company, it could cost as much as a new home to repair, (from around 20 million yen).
Abandoned houses are usually left as is, with the previous owner's belongings in them. So you would need to clear those too, which require time and money.
In addition, there are costs, such as acquisition taxes. Some rural properties lack an official border (which requires a specialist to establish). A border is usually a prerequisite for getting a mortgage.
Taking the plunge
In spite of that, we took the plunge and bought an abandoned house near to where we currently live.
Take a look at the YouTube video below for a walkthrough of the place.
We really wanted a larger property with a garden and place for our twin seven-year-old boys to play outside. I also wanted to be able to have a casual barbecue at home, which would be impossible where we currently live, in a built up residential area.
Because the house was close enough for our children to continue going to the same primary school, and in a secluded location, we were quite keen on this property.
We bought our place for just over 3 million yen (USD 27,000) in a nerve-wracking sealed bid auction. We didn't know how many other people (if any) were bidding. It turned out there was only one other bidder and it was a relief to win.
I'll talk about the whole process of buying an abandoned house in a separate post.
The house was abandoned when the owner passed away over five years ago. As there was an outstanding tax debt on the property (which is perhaps why the children didn't want to inherit), the Ibaraki tax claim office conducted the auction.
At just under 1400m2, it's big enough to have a large garden with a small soccer/sports pitch. A typical 200m2 lot with a 25 year old house in a neighbouring residential area would cost around 5-7 million yen .
Nearby land (without house) similar in size to the one we bought are on the market for over 20 million yen.
Old Japanese farmhouse
The fact the house is magnificent looking 30-year-old traditional-style farmhouse (kominka) in apparently good condition was a bonus.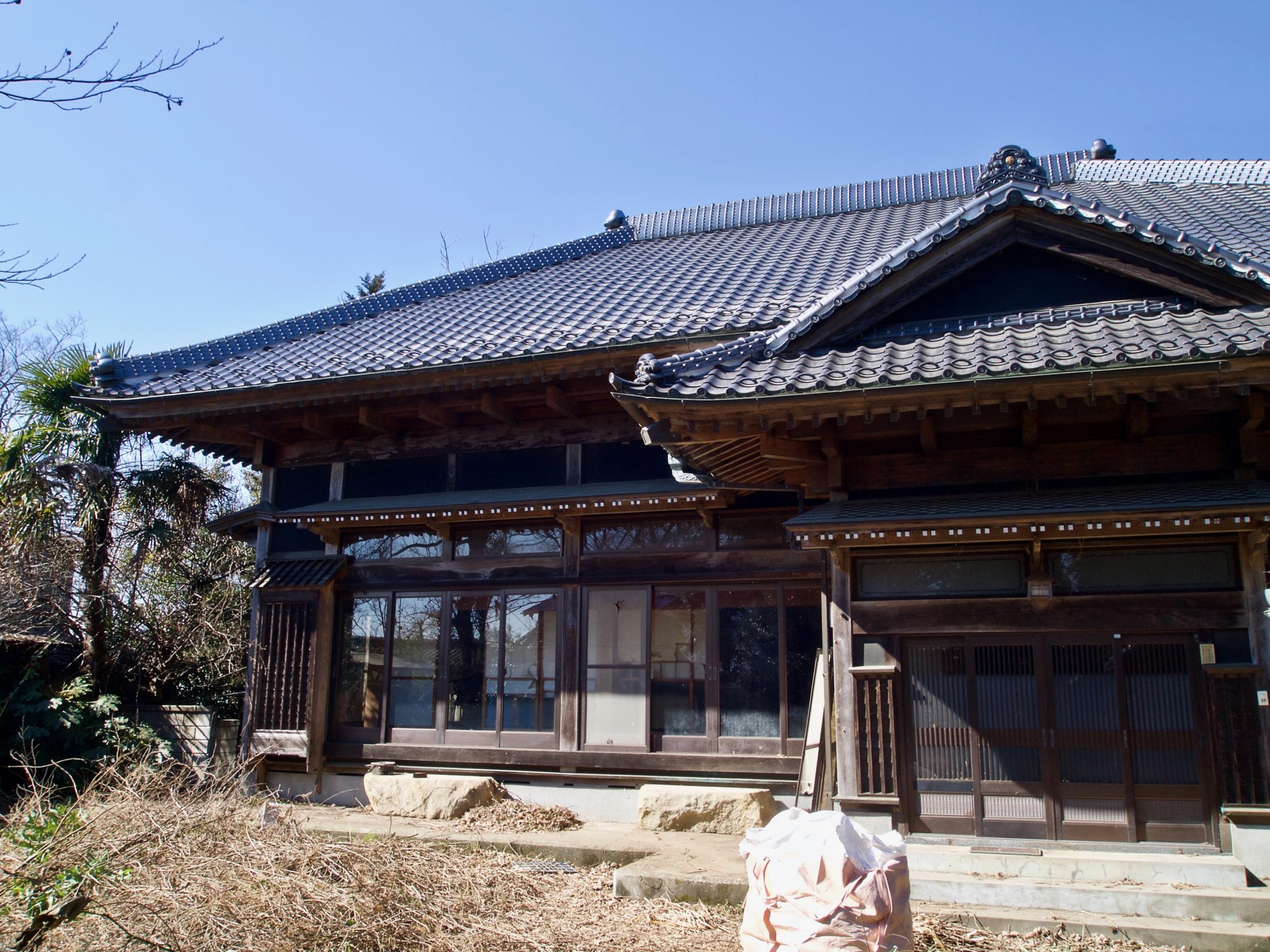 We inspected the house before buying and didn't notice any structural problems or issues with termites. But the conditions of auction precluded us from getting a professional to do a thorough inspection. The tax office didn't even have a key.
As it was a farmer's property, there were five sheds/buildings containing a lot of farm equipment, including a tractor and large machinery. Not to mention two cars and the clothes and belongings left in the house, food in the fridge and dirty pots in the sink.
The grounds were also overgrown with bamboo grass and vines.
So there is a lot of work to do.
Hidden costs
We had to pay about 250,000 yen in acquisition tax, and we also need to establish an official border, which is going to cost around 300,000 yen.
Fortunately, the water, sewerage and electricity are running fine – we just needed to contact the utilities companies.
We've had a more thorough inspection carried out by renovation companies. They have confirmed the structure is sound and not affected by termites. However, there is a leak in the roof which we need to fix soon, and will likely be expensive.
We've also been told that the house cost around 50 million yen (USD 450,000) or more, and took three years to build. It's amazing that such an expensive house could be worth so little now, albeit being abandoned and in a state of disrepair.
Overall, about one month in we're happy with our purchase. There were no surprises that we hadn't been warned about, and we're making good progress with the cleaning and the renovation plans.
Stay tuned for updates!
<!- Jaya edits - >
<!- end Jaya edits - >